Doctor & Staff
Meet our experienced doctor and friendly staff!
Dr. William L. Jones
Dr. Jones and his wife came to Franklin, Tennessee in 1984 to establish his practice in optometry. Dr. Jones received his doctorate degree in optometry at Southern College of Optometry in Memphis, Tennessee.
Dr. Jones is very active in the community. As a member of Rotary International, he is a past President of the Franklin Noon Club and past District Governor for Tennessee. He has served on the board of directors of Pull-Tight Players Theatre. He is also one of the musical directors as well as the bass guitar player for the youth choir at St. Philip Church and is a 4th Degree member of the Knights of Columbus. Dr. Jones has participated with Williamson Medical Center's wellness events by doing vision and glaucoma screenings.
Dr. Jones is a past president of the Middle Tennessee Optometric Society and has served on the Advisory Board of Eye Health Partners. He is a member of the Tennessee Academy of Optometry. He has lectured for the Tennessee Dispensing Opticians Association and has participated in numerous roundtable discussions for national contact lens manufacturers.
Dr. Jones has numerous special interests including golf, biking, guitar, and tap dancing. He is also a big fan of the Tennessee Titans. Above all, Dr. Jones values his family and finds the practice of optometry to be a very rewarding profession. He regularly attends symposiums and lectures to stay abreast of the dramatically changing field of optometry.
Our Team
We consider ourselves to be Dr. Jones' "right arm" in giving our patients the professional level of eye care we strive to maintain in our office. We want to provide them with today's best quality of eye care in a friendly and caring environment. We also strive to maintain a current knowledge of the latest materials and techniques available. Our office is proud to have encouraged many of our employees and friends to seek optometry, opticianry, and related fields as careers. One of our own employees received her doctoral degree in Optometry. Our current staff  have degrees in Education, Criminal Justice, Music, and  Nutrition.
---
Teresa
Our Office Administrator Teresa heads our team and has been a licensed optician with the state of Tennessee since 1987.  Teresa appreciates working with our brilliant young staff because they keep her on her toes. She also enjoys seeing patients who become friends.
---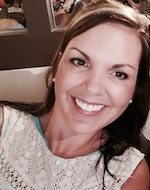 Christy
Christy is a wonderful addition to our valued team at the office of Dr. William L. Jones.  Christy is a friendly and helpful Southern Belle who will always greet you with a smile. Prior to working with Dr. Jones' office, Christy worked at Advanced Eye Care in Missouri for six years, where she garnered valuable insight and ocular knowledge which transferred to her position as an Optician and Ophthalmic Technician for Dr. Jones.  Christy is from Mississippi and has moved all around MS, AL, MO and now TN with her husband's job, General Motors. She has three children & two fur babies that she spends all her money on. So the next time you come by the office for an appointment, or just drop in to say hey, be sure to take a moment and and give a shout out to Christy.
---
Alli
Alli is our newest member to the office. She moved to Tennessee from New York, she is not the soft chime of a Southern Belle, but the loud clash of a Northern Cymbal. Alli  is fluent in American Sign Language and worked for six years in special education teaching nonverbal students with autism sign language for functional communication. When Alli is not at the office, she loves exploring her new city with her puppy.
---
Stephanie
Stephanie seen here wearing a Gwen Stephani frame, has been working for Dr. Jones for over 15 years.  Since she is Dr. Jones' daughter, it is easy to say she loves working in the family business. She has spent years as an ophthalmic tech and managing the office IT work.  She has a Musical Theatre degree from Belmont University and does a bit of singing and dancing around Nashville.  She is also busy selling real estate as a agent for Keller Williams and teaching dance for local college.  In her spare time she is a dancer for the Sounds Dance Team.
---